Keynote Speakers

Zhu Han, University of Houston, USA

Ph.D. Professor, AAAS Fellow, IEEE Fellow
Zhu Han received the B.S. degree in electronic engineering from Tsinghua University, in 1997, and the M.S. and Ph.D. degrees in electrical engineering from the University of Maryland, College Park, in 1999 and 2003, respectively. From 2000 to 2002, he was an R&D Engineer of JDSU, Germantown, Maryland. From 2003 to 2006, he was a Research Associate at the University of Maryland. From 2006 to 2008, he was an assistant professor in Boise State University, Idaho. Currently, he is a John and Rebecca Moores Professor in Electrical and Computer Engineering Department as well as Computer Science Department at University of Houston, Texas. His research interests include security, wireless resource allocation and management, wireless communication and networking, game theory, and wireless multimedia. Dr. Han is an NSF CAREER award recipient 2010. Dr. Han has several IEEE conference best paper awards, and winner of 2011 IEEE Fred W. Ellersick Prize, 2015 EURASIP Best Paper Award for the Journal on Advances in Signal Processing and 2016 IEEE Leonard G. Abraham Prize in the field of Communication Systems (Best Paper Award for IEEE Journal on Selected Areas on Communications). Dr. Han is the winner 2021 IEEE Kiyo Tomiyasu Award. He has been IEEE fellow since 2014, AAAS fellow since 2020 and IEEE Distinguished Lecturer from 2015 to 2018. Dr. Han is 1% highly cited researcher according to Web of Science since 2017.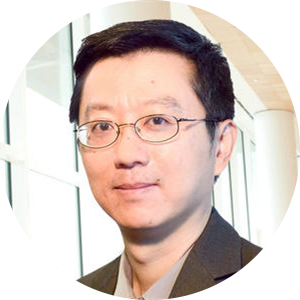 Huaiyu Dai, NC State University, USA

Ph.D. Professor, IEEE Fellow 
Huaiyu Dai (F'17) received the B.E. and M.S. degrees in electrical engineering from Tsinghua University, Beijing, China, in 1996 and 1998, respectively, and the Ph.D. degree in electrical engineering from Princeton University, Princeton, NJ in 2002.
He was with Bell Labs, Lucent Technologies, Holmdel, NJ, in summer 2000, and with AT&T Labs-Research, Middletown, NJ, in summer 2001. He is currently a Professor of Electrical and Computer Engineering with NC State University, Raleigh, holding the title of University Faculty Scholar. His research interests are in the general areas of communications, signal processing, networking, and computing. His current research focuses on machine learning and artificial intelligence for communications and networking, multilayer and interdependent networks, dynamic spectrum access and sharing, as well as security and privacy issues in the above systems.
He has served as an editor for IEEE Transactions on Communications, IEEE Transactions on Signal Processing, and IEEE Transactions on Wireless Communications. Currently he is an Area Editor in charge of wireless communications for IEEE Transactions on Communications, and a member of the Executive Editorial Committee for IEEE Transactions on Wireless Communications. He was a co-recipient of best paper awards at 2010 IEEE International Conference on Mobile Ad-hoc and Sensor Systems (MASS 2010), 2016 IEEE INFOCOM BIGSECURITY Workshop, and 2017 IEEE International Conference on Communications (ICC 2017).